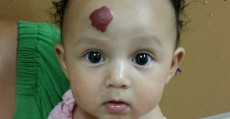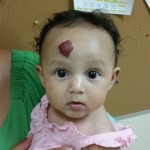 This is 5 month old Jaylene Rubon and her mother, Daisy from San Ignacio. Daisy has a stable hemangioma of her right forehead. Daisy wanted an opinion about treatment options for her daughter. The HHA Team assured her that as Jaylene grew the hemangioma would shrink and resolve. We will be monitoring Jaylene on future mission trips.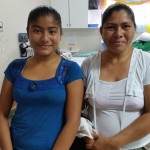 This is Lisette Chan and her mother, Clodomina from the village of Succotz. Lisette is 14 years old and presents with a large mass of her right breast causing her and her Mom a great deal of worry. Women's surgical services are lacking here in the jungle of Cayo, and the HHA Team has pledged to work with the Staff of the San Ignacio Community Hospital to provide support for the evaluation and management of these conditions. Lisette underwent removal of the mass and took the first step towards peace of mind.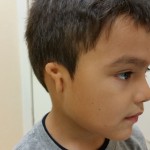 Jadiner Yacab is a 5 year-old boy from Santa Elena who presented to us with microtia of his right ear. Microtia is a congenital deformity of the ear affecting 1 in 6000 births and is nearly twice as common in male children. Microtia is treated at the age of 6-7 years and the HHA Team promised his family our care during a future mission.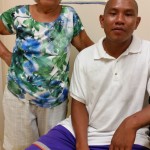 This is David Alberto Trujillo, a 26 year old young man from Benque with his mother Elisabeth. David has been concerned about an enlarging tumor of his left upper back which has begun to cause him pain. The Team was able to remove it today and David should be back working as a pig farmer painfree.