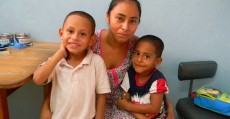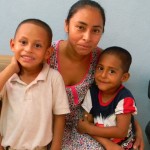 Rosibel Cruz, seen here with her two sons, Kieran and Zinaan, suffered from an enlarging, painful mass of her left upper thigh which she could not afford
to have treated. The Team successfully removed what appeared to be a benign tumor at the Western Regional Medical Center, relieving Rosibel of much pain and worry.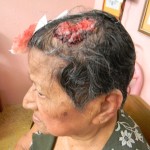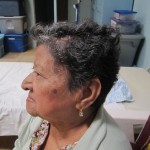 The HHA was visited by a patient we cared for during an earlier mission. Juanita Alvarado, now 85 years old, presented to us initially in 2012 with a growth on her scalp that grew for nearly 13 years because of lack of available treatment. The Team excised the cancerous growth and Juanita did well. She presents this time with a much less challenging concern – a small nevus seen on her left cheek which we readily excised.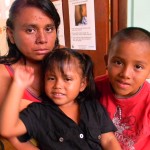 This is Rosaldo Tzib who has beensuffering from a worsening skin condition for quite some time now and her doctors in Cayo have not been able to helpher. The HHA Team took the first step in trying to determine the etiology of her facial condition and has pledged to treat her on future missions.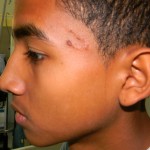 Nathan Tillet is a 15 year-old young man from Benque Viejo who presented to the Team with a lesion of his left forehead. It was determined to be premalignant, but because of its location the local doctors were reluctant to remove it. Nathan underwent successful removal and he will return to his
studies at the Sacred Heart High School.