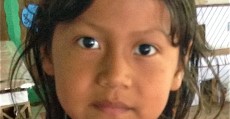 The Healing Hands Abroad Team traveled to Tena, Ecuador for a week-long mission serving the indigenous Kichwa communities around Tena, Misabualli and Chontapunta. These Amazon Basin mestizos people have poor access to healthcare, with only one public hospital in Tena which is both understaffed and devoid of specialty services. Many Kichwas are forced to travel 4-6 hours to Quito, the capital city, for their care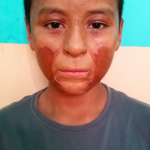 Jorge Chavarria is an 11 year-old boy who sustained gasoline burns to his face nine years ago. He lives in the neighboring village of Santa Rosa. His father brought him to see us because of scarring below his mouth that prevents normal function. The HHA performed Z-plasty surgery to release the scar contractures and improve the motion of his mouth.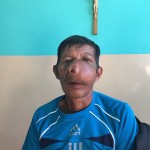 This is 57 year-old Pisango Grefa from the St. Martin region of Ecuador. Pisango has developed this large left/central facial mass over the past two years. This has progressively caused distortion of his nose and right face. The local surgeons and ENT doctors are not sure of the approach to this complicated problem. The HHA Team has vowed to help Pisango once our Team members back in the States have seen his photos and reviewed his test results.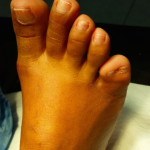 This is Greta Andi, a 28 year-old women from the small town of Aquapungo, outside of Tena. Greta was born with a duplicate right little toe that has always caused her discomfort while walking. The local doctors were never able to help her, but during this mssion the HHA Team successfully corrected the congenital malformation.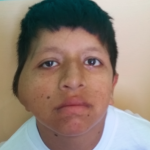 This is Franklin Hernandez, an 11 year-old boy from Santa Rosa, Tena. He was born with a large right cheek mass that has been enlarging. Because of Franklin's age and the size and location of the tumor, the local doctors have been reluctant to help him. This mission trip, the HHA Team successfully removed the mass. Franklin spent the night in the hospital and then returned with his family to Santa Rosa.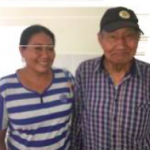 This is Antonia and Shigaungo, 42 and 83 years of age respectively, who are a father and daughter combo. Both presented to the HHA Pain Management Team with complaints of severe neck and lower back pain, radiating to the hands and feet. His daily function is severely inhibited and she functions with some limitations. They have never had any x-rays or diagnostic workup. The HHA Team was able to put together a clear diagnostic plan and initiate a physical therapy and medication regimen that we hopefully help them both.